The Social Workers Media Network
The Social Workers Media Network
The Use of Social Media and The Internet by Social Workers and Nonprofit Organizations
MODULE 1
COMMON ASSIGNMENT PART 1- ENGAGING WITH ORGANIZATIONS
By: Rickard Jean-Noel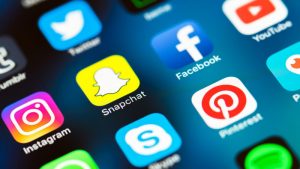 Once upon a time, the only means of communication regarding providing information was word of mouth. As man continued to develop, they were able to create languages and eventually an alphabet. The creation of the alphabet allowed man to put together words which eventually created sentences expressing thought on paper. Man evolved from complex hieroglyphic pictures on walls and transformed that to simple words on paper that could now fit in your pocket. From there we had other forms of communication such as newspapers, magazines, then came the telephone, radio, and television. Then one day out of the blue everything changed with the development of the computer and internet. Almost overnight, hundreds of people were now connected and were now able to communicate with each other in a matter of seconds. This invention known as the World Wide Web became a powerful tool for almost everything and anything. It is now one of the greatest tools of many organizations and social workers. A perfect example of this would be the online MSW program at Fordham University that is used to educate future social workers. In this article we will discuss an Organization named "CAMBA" and we will take an in-depth look at their use of the web including their website and social media.
CAMBA's website is www.CAMBA.org and according to their website their mission statement is: "CAMBA is a non-profit agency that provides services that connect people with opportunities to enhance their quality of life". Upon visiting their homepage, you will see a special video. In the video, it starts with a shout out from Steve Banks, who is the commissioner of NYC HRA/ Department of Social Services who states that CAMBA "provides answers to some of the most comprehensive problems in the city". The video on the home page then transitions to a message from their President and CEO Joanne M. Oplustil, who talks about the programs that CAMBA has to offer as well as some success stories from those that CAMBA has helped. The video is a great way to display visuals to those that want to know more about the company in a quick way. The fact that they are cosigned by the commissioner of NYC HRA/DSS speaks volumes to the amount of positive work that they are conducting in the city of New York.
The interactive CAMBA.org website can have a high impact on potential employees. If you were interested in employment with CAMBA, you would go to www.CAMBA.org/careers. On their careers page it states that "CAMBA offers competitive salaries, excellent benefits and an opportunity to work in a friendly and diverse work environment". The career page also has a testimonial from Ernestine Washington who was "a once-homeless mother, has become a housing advocate at CAMBA, helping to place hundreds of people in permanent housing during her career". The is also a quote from the assistant program director of CAMBA Supportive Housing LaShonne Greene stating "CAMBA is an amazing place to work: It's not only where you can, it's where you grow, where you learn, and where you give back!". CAMBA provides multiple job opportunities in the form of managerial, non-managerial, part time, per diem, and internship opportunities. CAMBA also has several job fairs, and free job readiness training and placement for unemployed adults. (https://www.camba.org/Pages/careers/Careers0831-6996.aspx)
CAMBA's website and social media might have several different forms of impact on current employees. A career employee would be able to easily search the careers page and apply for other positions if they are interested in advancing their careers or moving to a different position or department. A current employer can see on the news and blog page about all the current positive great things that CAMBA is doing in the community. This is something that an employee can be proud of. Social media is also a double edge sword and just as it can be used to promote the positive, it can also be used to promote the opposite. Most recently many of the CAMBA employees were on strike and used social media to promote their cause and to protest for better wages. During the protest, the salary of the CEO of CAMBA, Joanne M. Oplustil salary was exposed and was used to compare the difference between her salary and her employee's salary. According to the article "CAMBA Legal Services Workers Announce Indefinite Strike" by Left Voice, it stated that "We are going on strike to force CAMBA to improve the quality of its services and to treat its workers and clients with respect. For more than 25 years, CAMBA Legal Services has operated on a morally bankrupt model of quantity over quality: training is minimal, workloads are unsustainable, and most workers burn out in two to three years. CLS workers are meeting with clients before they have any training. CAMBA profits from this model because it is paid the same by the city and state whether the community receives quality, competent representation or the community receives sub-par, borderline malpractice representation. It's all the same to CAMBA, and the latter costs less" (https://www.leftvoice.org/camba-legal-services-workers-announce-indefinite-strike).
Many current employees feel that their current salary is unfair when compared to the salaries of executives and high-ranking staff. According to the article titled "Nonprofit CEO Makes $500k As Staff Relies On Food Stamps" by Kathleen Culliton, Patch Staff 2019 "CAMBA spent $82 million on compensation for its 3,172 employees, which makes for an average annual salary of about $26,000 in 2017, according to tax documents filed to the Internal Revenue Service in 2018.That same year, 15 key employees were paid more than $3.8 million in 2017 with CEO Joanne Oplustil taking home $503,090 annually, four executive vice presidents earning more than $300,000, five other high-ranking staff members earning more than $200,000 and five others earning more than $160,000, the tax documents show".
A potential client that needs CAMBA services would fine it very easy to navigate on their website. On the home page, it states that they provide services regarding housing, after-school programs, adult literacy, small business services, refugee services. It also provides potential clients with the different CAMBA locations and contact information. A potential funder and a current funder can use the same home page to see where the funds that they are donating are going towards. They may also go to the page that displays all the programs CAMBA offers such as economic development, education and youth development, family support, health, and legal services. A funder can then determine whether or not they feel that their ideals and passions line up with those of CAMBA (https://www.camba.org/programs). Regarding diversity, CAMBA states it clearly on their "About" page that "CAMBA serves clients of every race, religion, gender, age, sexual orientation and background and our staff and programs are as diverse as the individuals we serve. We embrace difference, respect all viewpoints, and welcome those from around the corner and around the globe" (https://www.camba.org/about/missionandvalues).
Overall a website and social media is a great way for companies to engage with the people and to promote their organization. It's a form of a virtual catalog and resume. It is also a grant way to display all your accomplishments, your goals, and a great marketing tool to get others involved in what you are doing. CAMBA does a great job of this by having a very simple but interactive website and multiple vibrant social media pages. This allows them to attract employees, clients, donors, and media attention.
References:
"CAMBA Legal Services Workers Announce Indefinite Strike" by Left Voice https://www.leftvoice.org/camba-legal-services-workers-announce-indefinite-strike
Nonprofit CEO Makes $500k As Staff Relies On Food Stamps" by Kathleen Culliton, Patch Staff 2019