"Teamwork Makes the Dream Work"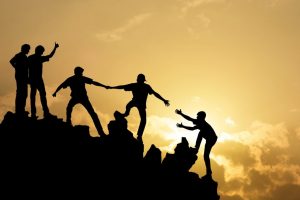 "Teamwork Makes the Dream Work"
COMMUNITY ASSESSMENT ASSIGNMENT: PART 4
By: Rickard Jean-Noel
In Module 4, the focal community that we focused on was the community of Brownsville Brooklyn and the target population was those living under the 200% poverty level. The distinguishable boundaries would be the invisible lines that divide the different neighborhoods. To the south of Brownsville is Canarsie, to the east is East New York, to the North would be Bedford-Stuyvesant, and Crown Heights to the West. The historical context of the neighborhood is not generally a good one because of its history of poverty, drug use, crime and violence. We know usually where there is poverty, there tend to be a high level of individuals on public assistance, who are self-medicating, and committing crimes. The subgroups would be the African Americans and Hispanic Non-White Americans that make up majority of the neighborhood. There are also other subgroups such as religious groups as well as gang members that consider themselves a separate class. The assists of the neighborhood is subjective upon who is asked. An asset can be anything from store front, to a drug corner, all of which brings profits for the individual in possession of that position. Non-asset's would be anything that would be determined on to be a liability in that neighborhood. This would include a rival turf or something that the community is unable to benefit from. Missing assets would be the availability to organic food and healthy restaurants. Majority of the people in the community are on public assistance, which makes it difficult to purchase healthy food. There are also not many healthy opinions, yet the neighborhood is riddled with fast food places.
Using the Midwest Academy's Strategy Chart and Illustration on page 344, we can compare and contrast these strategy planning tools. The outcome of this would somewhat similar and somewhat different. The working intervention hypothesis would help us in focusing on the group at hand, identifying them, screening them. This would help us to center in on the group, know who they are and help them. This would be most important to determining the issue, the solution, presenting it to funders and providing them with detailed results. The example in the text book uses the homeless as an example, while the example used in Module 4 was low-income individuals living in poverty. Both groups require health and social services to be provided for a better standard of living. There will be programs that will assist with obtaining additional education and resources, however the control group mentioned in Module 4 will not be moved to new facilities where their rent will be paid. The social adjustment of both groups will be addressed so that there is a visible change in the community. Module 4 does not discuss the reduction of single homeless men and women over the age of 55; however we will attempt to reduce the number of single parents and the dropout rate in the community. Another fact would be the fact that the topics discussed in Module 4 will take longer than 6 months to obtain any results when compared to that in Chapter 11 box 11.4. Similar to chart 11.4, all outcomes and practices attempted will be records as a notation of the success or failure of the program.
Given the issues of the community that was discussed in Module 4, the best strategy chart would be The Movement Pivots and its 5 Steps to Collective Impact. This would be the best use because it would promote a sweeping change over society and that is what is needed with this particular community. According the movementstrategy.org, "Movement Strategy Cent (MSC) MSC is dedicated to transformative movement building: helping individuals, organizations, and alliances build their capacity to be strategic, collaborative, and sustainable.  MSC is a national intermediary that works with over 300 partner grassroots organizations, alliances, and networks that operate at local, regional, and national levels.   MSC works across sectors and within sectors.  MSC supports local alliances that bring people in one place together across issues and constituencies and supports national alliances that unite groups working on common issues" (https://movementstrategy.org/b/wp-content/uploads/2015/08/MSC-Movement_Pivots-WhitePaper1.pdf).  This perhaps would benefit our community the most because it is a large program that would benefit a large group of people.
Based on the need comprising the community issue, the social work roles that might be necessary to help facilitate this strategy would be an advocate, a spokesperson, an organizer, a mediator, and a consultant. We would need an advocate to fight for the people and someone that has a degree or education in litigation or public advocacy such as a lawyer or a politician. A spokesperson would be needed to be the face of everything that is occurring and would speak to the media. An organizer would be needed to help put everything in order and ensure it all goes according to plan. A mediator would serve as a middleman between the people that are being served and those providing service. They would serve as a buffer. A consultant would also be good in regard to providing advice. Everyone working together would assist with producing a successful program resulting in changing the lives of those in need for the better.
References:
Netting, F. E., Kettner, P. M., McMurtry, S. L., & Thomas, M. L. (2017). Social work macro practice (6th ed.). Boston, MA: Pearson
Module 5 and 7