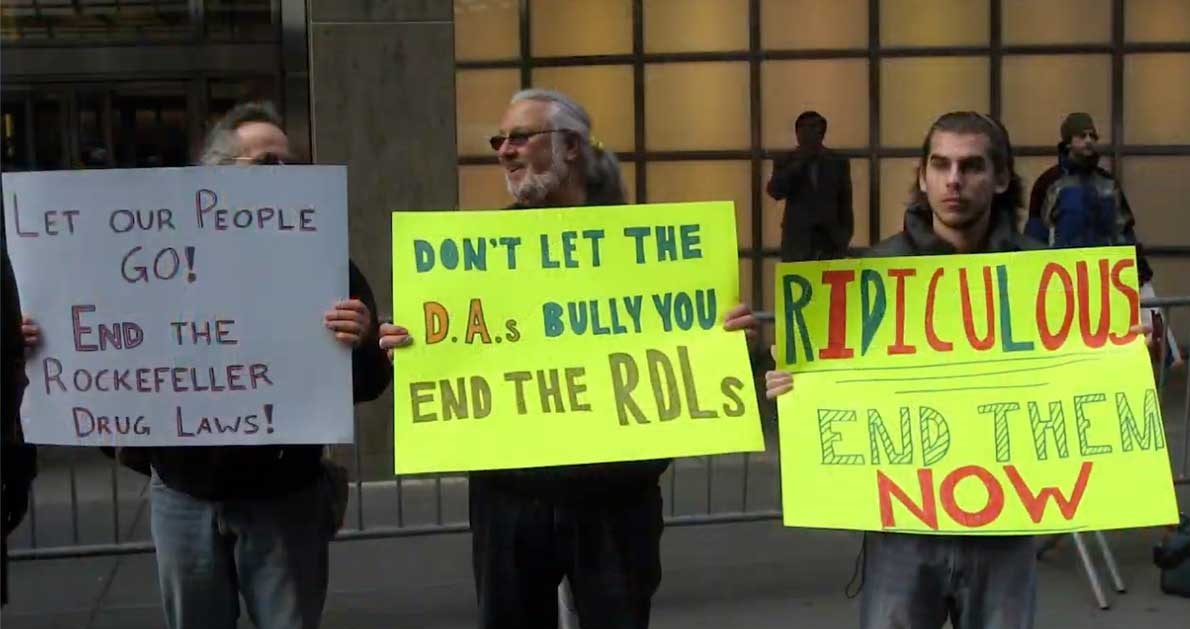 Rickard Jean-Noel
December 3, 2012
Legal Seminar
Final Paper Research Project
This final paper was written to explain and dissect the "The Rockefeller Laws".  In this paper, I will show proof that these set of laws were instituted in the state of New York to target minorities, specifically blacks and how it caused the destruction of a generation and damaged the image of a great city. The data collected to formulate this paper will show how these set of law were used to target African Americans and other minorities so that it would be easier to arrest and disenfranchise them, making a forthcoming nearly impossible and ultimately crippling their future as well as their communities as a whole. I will also present a connection of today's policies in New York such as the "stop and frisk" conducted by the police, and how they are derived from the Rockefeller laws  and set in place to target young minorities as well as random  traffic stops and check points.  Today's police officers are the foot soldiers that bully, intimidate, and provoke the people, causing a hostile environment between the governing bodies and its citizens. Instead of rehabilitating drug addict, they are beaten and thrown into jail cells for long periods.
During the late 1960s and early 1970s, drug crimes were on an epic raise in the U.S. and President Richard Nixon had declared a national war on drugs. New York legislators felt that the drug problem that they were facing at the time was growing out of control. Federal statistics showed an increase of users and the number of state wide arrested involving drug related crimes was on the raise by thirty-one percent by 1972. In an effort to slow down this epidemic, the current Governor of New York at the time, Gov. Nelson Rockefeller, created the Narcotic Addiction and Control Commission in 1967. This was created to aid addicts in receiving treatment, but the end result was costly and ineffective. The Methadone Maintenance Program was later launched in response, but was a failure as well.  After several failed attempts at creating drug rehabilitation programs, the governor signed, a newly draft sets of status that would be later known as "The Rockefeller Laws."
Due to the raise in drug related crime and drug related activities, it made it possible for such a harsh bill to be passed and on May 8, 1973, The Rockefeller Drug Laws was signed.  The Rockefeller Drug Laws were very harsh because it:" established mandatory prison sentences for the unlawful possession and sale of controlled substances keyed to the weight of the drug involved. Generally, the statutes require judges to impose a sentence of 15-years to life for anyone convicted of selling two ounces, or possessing four ounces of "narcotic drug" (typically cocaine or heroin)."(http://www.prdi.org/rocklawfact.html).
As a direct result of the Rockefeller Laws, individuals were now facing the same prison term for possession of a small amount of narcotics that they would for second-degree murder. The Rockefeller Drug Laws was seen as a milestone in America's war on drug because of its harsh penalties. The state of Michigan soon followed in the footsteps of New York with their similar law known as the "650-Lifer Law," which called for life in jail with parole for the sale, manufacture, or possession of at least 650 grams of cocaine. The state of Minnesota later passed laws that imprisoned individuals found in possession of crack cocaine for a minimum of four years. (New York's Rockefeller Drug Laws: By Madison Grayhttp://www.time.com/time/nation/article/0, 8599, 1888864, 00.html#ixzz2DzNPPP9D).
The Rockefeller Drugs Laws turned out to be one of the biggest failures in New York legislative history. Though there was an increase in drug convictions, there was not a decrease in overall crime. The New York Prison System between 1980 and 1992, had tripled from about 20,000 to almost 62,000(.Trends in the New York State Correctional System. Occasional Paper, March 1998," (NYS Assembly's Committee on Ways & Means). The new concept of this mandatory minimum sentence for drug felonies have increased the percentage of convicted drug offenders who receive prison sentencing. As a direct result of this, the NYS prison population has changed from the 9% that were serving time for drug felonies in 1980 to about 32.2% in 1997. (NYS Department of Criminal Justice Services; NYS Department of Correctional Services). Since 1981, there has been an increase of imamates causing the state to add 40,000 beds to its prison system, which was an average construction cost of $100,000 each, which totaled about $4 billion. Despite these increases in the prison beds, the NYS prison system is still severely overcrowded, "forcing prison officials to double bunk or double cell approximately 9,000 inmates." (Correctional Association of New York).
Majority of the individuals  convicted under the law, were not violate offenders, but instead low level drug dealers or users that were prosecuted as drug kingpins.  Instead of assisting individuals get treatment for their addiction, since the majority were users, they gave them long prison sentences, which became a mental health issue because you now had an enormous amount of recovering addicts in a crowarded and growing prison population. New York Gov. David Paterson was quoted say that "I can't think of a criminal justice strategy that has been more unsuccessful than the Rockefeller Drug Laws."
Due to the large amount of individuals that were convicted under the Rockefeller Law, there was a peak of financial funding on prisons that caused a strain on New York's spending budgets. By December 31, 1997, there were about 8,880 drug offenders in NYS prisons under the Rockefeller Drug Laws. According to the Correctional Association of New York, it costs an estimated $265 million dollars to pay for those prisoners to be incarcerated. There were an additional 12,102 drug offenders in NYS prisons under the Second Felony Offender Law, costing an estimated $360 million per year. "There were 22,670 drug offenders in the NYS prison system, representing 33% of the total prison population. In 1980 drug offenses represented only 9% of prison commitments." (DOCS Capacity Option Plan)
Due to the high demand for prison funding, money for education spending was cut. "Since 1989 the yearly budget for the State University of New York (SUNY) has dropped from a little more than $1.3 billion to around $800 million. In the same period, annual spending on prisons in New York has increased from a little less than $1 billion to $1.7 billion." (The lock down of higher education. By Patrick R. McDonald in the Westchester County Weekly, April 2, 1998.) The statistics showed that it would have been more cost affected to rehabilitate these young individuals and send them to college so that they can better themselves and their families and communities then to just send to them an overpopulated jail for long periods of time, for a small amount of narcotics.
Countless people alleged that the Rockefeller Laws were racist and was a law created to aim primarily at minorities, especially African Americans.  "In 1997, Whites constituted 5.3 percent of the total population of drug felons currently in prison in New York; Blacks and Latinos constituted 94.2 percent. (New York State Division of Criminal Justice Services, as reported in Human Rights Watch's 1997 report Cruel and usual: Disproportionate sentences for New York drug offenders.)As of 1996, Blacks and Latinos made up 23% of the state's general population, but constituted over 85% of the people indicted for drug felonies, and 85% of its overall prison population. (U.S. Bureau of the Census; NYS Department of Corrections.)It also affected women of color who were mainly arrested for possession and were amongst the highest in drug in drug offenders.
Hip-hop mogul Russell Simmons was quoted saying, "Today, there are approximately 12,000 people in New York prisons under the Rockefeller Drug Laws, more than 90 percent of who are Black and Latino. There is no excuse for this disparity – Whites and people of color use and sell illegal drugs at approximately equal rates." (Russell Simmons, hip-hop mogul and activist, and Gabriel Sayegh of the Drug Policy Alliance).
Due to harsh criticism and lack of success, there was a high demand for a reform to the Rockefeller Law. Not only did it give individuals long prison terms, but it also controlled them after they came out of jail by giving them parole for life. This meant that the individual had to gain permission from their parole office for the rest of their life before he/she were able to do anything, even in affairs of marriage. Because of all of this and more, the people started to protest outside the governors and mayors office and asked for changes to be made to the outdated, racist, and ridiculous law. The first Reform came on December 14, 2004, when Governor Pataki signed into law the Drug Law Reform Act (DLRA) (2004 N.Y.Laws Ch. 738, which went into effect on January 13, 2005. This law replaced the indeterminate sentencing of the Rockefeller Drug Laws with a new determinate system and reduced the mandatory minimum prison sentences nonviolent felony offenders.
March 25, 2009, hundreds of people rallied in front of Gov. Paterson's Manhattan office demanding him to rid the Rockefeller Laws completely. On March 27, 2009, Paterson announced that him and the state legislative leaders had reached a deal to reform the drug  laws and on April 2, 2009 the state legislature passed legislations that eliminated the mandatory minimum sentences and restored authority to judges to send many of the drug offenders to treatment programs instead of jail. (http://www.nyclu.org/issues/racial-justice/rockefeller-drug-law-reform).  This lead to many individuals that were already imprisoned under the law to seek appeal, many thought this as a good thing because these individuals were serving an unfair sentence, while others seen it as a bad thing and stated that there would be many repeated offenders.
Since the signing of the DLRA, many individuals that were currently incarcerated have appealed for resentencing under the new law.  An example of an appeal under the new law would be, The People of the State of New York v. Jose Figueroa 27 Misc.3d 751, Supreme Court, New York County, New York.  The defendant in this case was convicted of criminal sale of a controlled substance in the third degree on November 19, 2002. He engaged in the in the sale of $350 of cocaine to an undercover police officer on two occasions and was sentenced to 6 years.  He then motioned to be resentenced under 2009 Drug Law Reform Act, he was found eligible for resentencing and motion was granted.  One thing we must note however is that repeated offenders are often denied resentencing. In the case of The People of the state of New York v. Paulin, where he serving a sentence due to a parole violation steaming from  prior drug convictions.
One of many books published about the Rockefeller Laws, was the Nonfictional book titled   "Life on the Outside: The Prison Odyssey of Elaine Bartlett" by Jennifer Gonnerman. This book was about a woman who was released from prison after spending a sixteen year sentence at Bedford Hills for selling cocaine. She was a first time offender and served that amount of time in prison dude to the strict sentencing under the Rockefeller Drug Laws. She was found guilty of transporting drugs from Manhattan to Albany, her boyfriend at the time was also sentenced to twenty-five to life. She was released out of prison at the age of forty-two. Now having to adjust to the new world that she has been released into, she now has to look for a job to support herself and her family; she also has to deal with the fact that her husband and son who is still incarcerated under the same laws for similar crimes. The challenges that she faced on her release from prison are the same that many released under the Drug Reform Act will have to experience.
An example of this would be Amir Varick Amma from Queens, New York who spent nineteen years behind bars due to a drug conviction steaming for a drug investigation in Albany when he was twenty-three years old. After nineteen years, he was released on March 23, with no knowledge of how to use a cell phone or the internet, and has to find a job in a struggling job market and to recreate a relationship with his two children, one that he has never met. (http://www.wnyc.org/articles/wnyc-news/2010/mar/23/after-19-years-released-from-prison-under-the-rockefeller-drug-law-reforms/#)
New York remains the marijuana arrest capital of the world with about 40,000 arrests in 2008, despite the decriminalization of simple possession. This is because police trick individuals using the Terry stop then tells the suspect if they reveal any illegal substance they have on them voluntarily, they won't arrest them, then when they do, they arrest them for possession in public view. This is one of the many tricks that the NYPD use to target young blacks and Latino to arrest them.  (http://www.nyclu.org/node/1736).
In conclusion, the Rockefeller Law has high affected the state of New York, and we are still dealing with the affects of it today. It was a group of laws that were never supposed to be put in place but were and created and imposed a long period of oppression. One positive thing we can say is that the laws were eventually reformed. Regardless of the changes made to the law, it will always have a lasting impact on generations to come. Families that were once ripped apart for years, and the individuals now being released after long prison terms are now being reentering this new world. These individuals will need help to repair their lives and start living again.
Bibliography
New York's Rockefeller Drug Laws: By Madison Grayhttp://www.time.com/time/nation/article/0, 8599, 1888864, 00.html#ixzz2DzNPPP9D
NYS Department of Criminal Justice Services; NYS Department of Correctional Services
Correctional Association of New York
The lock down of higher education. By Patrick R. McDonald in the Westchester County Weekly, April 2, 1998
DOCS Capacity Option Plan
New York State Division of Criminal Justice Services, as reported in Human Rights Watch's 1997 report Cruel and usual: Disproportionate sentences for New York drug offenders
Department of Correctional Services, Characteristics of New Commitments 1994, (Albany: NYS Department of Correctional Services, 1994), p.55
S. Bureau of the Census; NYS Department of Corrections
Department of Criminal Justice Services, Female Drug Commitment Population, 1987-89
Russell Simmons, hip-hop mogul and activist, and Gabriel Sayegh of the Drug Policy Alliance
Drug Law Reform Act (DLRA) (2004 N.Y.Laws Ch. 738
"Life on the Outside: The Prison Odyssey of Elaine Bartlett" by Jennifer Gonnerman
http://www.wnyc.org/articles/wnyc-news/2010/mar/23/after-19-years-released-from-prison-under-the-rockefeller-drug-law-reforms/#